How to start digital marketing agency in India 2023?
As per the expert market research, the Indian digital marketing market reached USD 3,931Mn in Y2022 which is further going increase to staggering USD 19,268Mn by Y2028 (growth of CAGR 30%). The major factor contributing to this growth is wide usage of digital products among this ever increasing Indian population. So lets see what is digital marketing and how to start digital marketing agency in India.
What is digital marketing?
We all know about "marketing" that is the activity of promoting and selling products or services of a particular business, For example, hoardings, magazine advertisements, etc. Marketing also includes market research and advertising. Digital marketing is nothing but the marketing of products or services through the use of digital form. This form of marketing involves the use of websites, social media, pay-per-click advertising, SEO, Apps, etc. Nowadays, most businesses are happy to spend on digital marketing because of the benefits it reaps. There are multiple reasons why digital marketing is so popular.
Digital marketing is quite cheaper than traditional marketing
It is not just limited to specific area, it has a global reach.
It enables customization and accurate targeting to audience.
Branding at a global level
The results are effective and traceable.
Pros and Cons of starting digital marketing agency in India
Pros
1. Huge demand & scope for growth
Digital marketing is a one of the mandatory facet of any marketing department of a business. Today, business of all size whether its small, medium or large organization, they all need to use digital marketing in order to gain visibility.
2. Flexibility in work
Since you would be working on marketing the digital products, you don't need to sit at one place. You can be in any part of the world and successfully run this business. It is also not required to stick to 9-5 work culture, you can work anytime you like. You can also either work as freelance or start your own agency.
3. No qualification is required
You don't need any formal education to start this business. However, basic understanding of the concepts of digital marketing is required. You can take any small course and start your business. If you are working hard and have the required talent and determination, you can do very well in this business.
4. Low investment required
In order to start a digital marketing agency in India, you don't need huge amount of money to invest. As I mentioned, you don't even need an office to begin with. However, having an office definitely builds credibility but what I am saying is that it is not required when you are just starting.
Cons
1. High competition
Like any other growing industry, this business also has a lot of competition. Many institutes have come up with many digital marketing courses and there are many people who enroll and studies this business.
2. Changing business models
This is fairly a new business and there are many changes that keeps happening in this industry. You should be agile enough to understand the change and adapt accordingly in order to sustain and be successful in this business.
3. Demanding job
Although there are many benefits of this business, but it can quite draining sometimes. You need to put a lot of hours of work in order to satisfy your clients and bring business to them. Ultimately everybody is interested in the results. If you customer makes a sale, you are earning a part of it.
Investment required to start digital marketing business in India
You don't need a lot of money to start this business. As I mentioned, you can start working from your home itself and you just need a laptop which may cost around INR 50,000. However, if you are planning to start an office then you may need some more money say around INR 200,000.
Steps to be followed to start digital marketing business
1. Obtain basic training and skills:
The problem is that our school education is outdated and so we have never learnt about the concept of digital marketing before. Although, getting a formal education is not required, you still need to learn some basic skills around digital marketing before putting your step in the business. There are multiple institutes providing courses on digital marketing nowadays like Udemy, UpGrad, Digital marketing India, etc. Since I don't promote any of these institutes, you may do your own research before picking one.
You may also think of working in a digital marketing agency for a few months to get the ground level understanding on how this business works.
2. Research, planning, find your niche and decide a business model:
This is the most important step to start a digital marketing agency business in India. You need to first do a lot of research about all the possible business models in the industry and then study the competitors, how much they charge for their services, what services they offer, etc. Further, you also need to decide what kind of services you will provide. Below are some of the services digital marketing agency may provide. Please note that this list is not exhaustive.
Website marketing
Affiliate Marketing
SEO (Search Engine Optimization)
SEM (Search Engine Marketing)
Pay-per-click advertising (PPC)
Social Media Marketing
Blogging and Article Writing
E-mail Marketing
Mobile Marketing
Marketing consultation
3. Obtain required licenses:
Next, you need to register your business and obtain any necessary licenses or permits as below
Udyam registration http://udyamregistration.gov.in/
GST (Goods and Service Tax) registration https://reg.gst.gov.in/registration/
Company registration like private limited company, partnership or proprietorship firm. I would recommend starting with a proprietorship firm first, then when your business grows you may get into a private limited company.
PAN card (if it's a private limited company or partnership, not required if you are starting as a proprietor).
Also open a separate current bank account if it's a private limited company or partnership, not required if you are starting as a proprietor
You can obtain these licenses directly if you have required knowledge. However, I would recommend taking help from a CA or lawyer.
4. Create a brand name and a website:
Develop a brand identity, including a logo, color scheme, and brand name. Brand name should be catchy & simple. Then you should also create your logo and tagline. You can easily create a logo for free using various websites for example, www.canva.com. Further, you should also create an impressive website for better branding.
5. Marketing and promotion:
Lastly, needless to say, you also need to spend on marketing and promotion of your own website and brand. Create an impressive page on all social media platforms like Instagram, facebook, twitter, etc and start marketing your brand.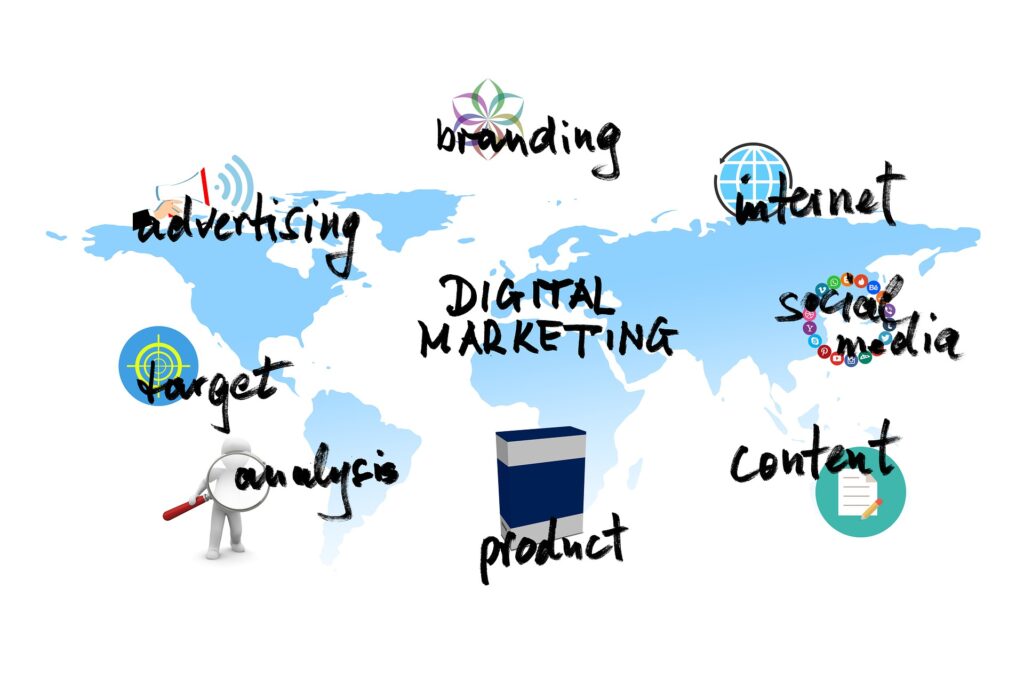 Conclusion
Summing up, this is all you need to start a digital marketing agency in India. It is a growing business and here to stay for long period of time. Further, it is also one of the most profitable business. However, as I mentioned, competition is tough and you need to work very hard at least in the initial phase to build your customer base.
I hope you enjoyed this post and have learnt something out of it that would help you in starting the car service business in India. If you think I missed out any point and you have any confusion, feel free to share your comments.